Here's the main stories on Monday, 30 August:
Here is our story on the news we brought you earlier about the suspension of the inquiry into how the prime minister's office handled Brittany Higgins' rape allegation:
The federal government was warned 18 months ago of the urgent need to protect the Covid-hit town of Wilcannia, leaked correspondence seen by Guardian Australia shows, with an Aboriginal health service pleading for immediate help at the time to prevent an outbreak.
The Maari Ma Aboriginal health corporation wrote to the Indigenous Australians minister, Ken Wyatt, in March 2020, outlining "grave fears" for the far western New South Wales town if Covid were to spread to the vulnerable population there.
"Warnings from around the world are clear: the earlier we prepare and act, the better the outcomes will be. We cannot wait until the first case turns up in the community, or worse, the first hospital case presents," the letter said.
Full story:
As we reported earlier, the Gaetjens review into allegations made by Brittany Higgins will be suspended until the completion of criminal court proceedings, the department of prime minister and cabinet has confirmed.
The secretary of the department, Phil Gaetjens, confirmed in a statement on Monday that he had suspended the review after Guardian Australia reported that Higgins had been told by the ACT DPP not to participate while the court proceedings were outstanding.
Gaetjens said he received legal advice that the review should be suspended to ensure it had "no adverse impact on criminal prosecution".
A 26-year-old man has been summonsed to appear before the ACT magistrates court in September over the alleged sexual assault of Higgins, a former Morrison government staffer, at Parliament House.
There are new exposure sites that have just been listed in the past hour or so for Victoria, including a Shepparton hairdresser for the entire day way back on 20 August (two Fridays ago), and sites in Rosebud and Reservoir.
There are now almost 1,000 sites linked to the current outbreak, and you can find them here: https://www.coronavirus.vic.gov.au/exposure-sites
The TikTok is out, TikTok freaks:
This is a good piece on Covid across the ditch, for those of you interested in pandemic news from multiple countries:
The wonderful Nino Bucci will be taking you through the evening – a very big thank you to everyone who joined along with Politics Live today.
We'll be back with parliament and Covid from early tomorrow morning. Stay tuned for any updates with Nino this evening right here – and please, take care of you.
Greg Hunt continues to use population measures not commonly seen:
You can read more on the death in what is a very sad and sombre day for First Nations Australians from Calla Wahlquist, here:
Labor MP Linda Burney held a press conference a little bit ago to speak on the first confirmed Indigenous death due to Covid, in western NSW today:
This death and these infections could have been prevented. There is too little too late in western NSW. We know that the federal government was warned back in March 2020 that this was going to be the outcome if they did not step in. March 2020!

That is over 12 months ago. The death of Mr Dunn, just 50 years old, in Dubbo base hospital, I am terribly afraid will be the first death of many.
For those looking for some good news data from NSW:
The departmental head of the prime minister's department has issued this statement:
On 17 February 2021, I was asked by the prime minister to report on who in the Prime Minister's Office had knowledge of the alleged sexual assault of Ms Brittany Higgins in March 2019, and when and how that knowledge was acquired.

In late March 2021 Ms Higgins indicated she wished to provide input to the inquiry, which I agreed to do when she was in a position to contribute.

Charges were recently laid in relation to this matter by the ACT director of public prosecutions.

On 26 August 2021, I was informed of media reports that Mr Shane Drumgold, ACT director of public prosecutions, considered that the continuation or finalisation of my inquiry could prejudice the criminal proceedings now on foot.

My department separately confirmed those views with Mr Drumgold and I sought legal advice on the matter on the same day.

On the basis of that legal advice received on 27 August 2021, I have suspended my inquiry until the conclusion of the criminal trial. This is to ensure that the inquiry can have no adverse impact on the criminal prosecution.

The action I have taken is strictly in response to the legal advice I have received, and does not relate to any of the content of the inquiry. No inferences in relation to that content can be drawn from the legal advice nor my decision to suspend the inquiry.

I have advised the prime minister of my decision.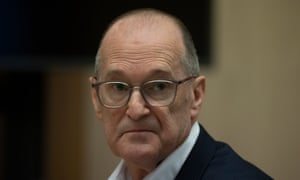 Again, the issue isn't lockdowns, but lockouts.
Living with Covid in Queensland, South Australia, Western Australia, Tasmania and the Northern Territory (and, until recently, the ACT) has been very different to living with Covid in NSW and Victoria.
Life has been pretty normal for about 40% of the country – that is what the national plan is coming up against.
Liberal MP Dr Katie Allen and Labor MP Jenny McAllister both appeared on the ABC, where they were asked about premiers who may not open borders even after hitting the 80% vaccination target of the eligible population.
McAllister:
Well, the national plan is going to require state and territory premiers and first ministers to work with the prime minister. And in return, it's going to require the prime minister to open a respectful dialogue with both state and territory leaders. These are complex questions. The national plan is not yet a detailed plan. There are many questions to be worked through, including questions about borders. The national plan is silent on the question of border closures, for example …

[We seem to have a] a situation when the

New South Wales

Liberal premier, apparently, is reported to consider the prime minister "evil"*. It doesn't bode well, does it? It doesn't suggest he's the kind of leader who is going to be able to steer through this very complex and consequential decision.

… These are things that are going to have to be worked through, through the national cabinet. It makes it clear that to have a safe reopening, as I think we would all like to see, there needs to be adequate test, trace and isolate capabilities … There need to be strong vaccination outcomes, and the rollout is still far from complete. We are a long way off 70%. There is so much work to do and it's a time for leadership and cooperation, not taking pot shots.
Allen:
National cabinet has agreed and in that national cabinet plan is the desire to move away from lockdowns. It's there in the plan and we know that there's a transition that we need to go through and, of course, there will be differences of opinions.

But reducing it to talking about a discussion that had not occurred between Gladys, the premier of New South Wales, and Scott Morrison, the prime minister of Australia. It's not helping the agenda.

The agenda is about the proper debate about the way forward and that is being had by the national cabinet, by elected members who are representing their states and territories and the federal government. It's happening on extremely regular basis and we can see those sorts of contest of ideas is what's going to give the best outcome for Australia.

So reducing it to some sort of politicisation is not helping what is a very, very critical discussion and debate that is around what is the best thing for Australia going forward, and I would say the national cabinet continues to deliver for Australia. Yes, there is debate around the edges but at the end of the day, I think that the people are getting what they need, which is good government.
*Gladys Berejiklian has denied she called Scott Morrison an "evil bully" in conversations with colleagues.
AAP has a bit more on what those new laws will mean:
People who have been afraid to come forward to tell their story to the disability royal commission can have more confidence under new protection of information laws, the commissioner says.
Federal parliament passed laws on Monday that will protect sensitive information provided to a royal commission.
Disability royal commissioner Ronald Sackville said the new laws would remove a "significant barrier" to people with disability, or people on their behalf, engaging with the royal commission.
The former judge said:
The royal commission will now be able to guarantee the confidentiality of submissions and other sensitive information both during and beyond the term of our inquiry.
He encouraged anyone who has had concerns about telling their story to now contact the royal commission.
This includes accounts of a person's, or another person's, experiences of systemic violence, abuse, neglect or exploitation.
Emails, letters and conversations will get the same protection as evidence given in person and in session.
It will be an offence incurring a prison term of up to 12 months to expose information that should be kept private.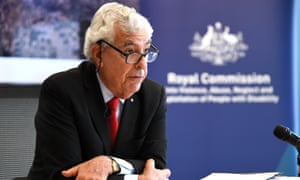 This is good news – and something which was pushed by Jordon Steele-John: people can now anonymously give evidence to the disability royal commission.
Someone has just pointed me in the direction of a piece Michael McCormack wrote for the Age this weekend.
It was about Sir Alogy, an Australian racehorse which went from "cow pony" to steeple race champion in the 1920s, before an injury ended his career.
McCormack loves this horse.
He also, I think, may love the analogy of this horse, ending his piece with:
He may have been forced to exit the big stage far too soon, but this loveable Riverina lad, who had delivered mightily, left with his legacy and reputation assured.
Sound familiar?
You can expect more of these interventions.